Logistics expert Staci is delighted to have been named 'Best UK Logistics Business' and 'Best International Logistics Business' at the UK Business Awards.
Staci is honoured to have been recognised by the judging panel as providing best-in-class multichannel and international logistics solutions, and it is testament to the hard work of our teams in the UK and globally that Staci continues to win multiple awards for their expert logistics.
As global multichannel fulfilment experts, Staci operates 79 fulfilment centres across 9 countries in 3 continents. With the acquisition of Amware fulfilment in the US, and Staci's expansion into Asia both in 2023, Staci's ability to provide a true international multichannel logistics solution is unrivalled, something recognised by the judging panel of these national awards.
Wayne Chapman, UK Managing Director, said: "I am incredibly proud of Team Staci for their consistent hard work and determination, leading to us winning these fantastic awards.
Our level of growth and achievements this year is something that I am overjoyed with – particularly our new fulfilment centres and expansion into Asia, which unlocks many opportunities for us to provide solutions to clients in the future.
Huge thanks to the UK Business Awards and their judges for naming Staci UK as 'Best UK Logistics Business' and 'Best International Logistics Business', and once again thank you and congratulations to Team Staci for all of the outstanding work they do for us."
Staci UK has made a significant investment to help reduce the carbon footprint of the business in order to achieve its ESG and Net Zero targets.
The logistics expert has completed the purchase of an Electric Vehicle to be used for the transport of clients and Team Members across the North West, which Staci expects will remove 10,000KG of CO2 from the roads, the equivalent to a forest of 500 trees being protected.
With a strong reputation for ESG and sustainability, Staci UK's performance is amongst the top 4% of companies globally including areas such as environment, sustainable procurement, ethics and labour standards.
As a global logistics expert with over 75 Fulfilment Centres in 9 countries, Staci has a significant focus on its sustainable performance, and within their 'CSR 2025' plan have 21 different targets they will achieve throughout the world, including 100% renewable energy use, reducing transport emissions by 20%, and reducing energy consumption by 15%.
Wayne Chapman, UK Managing Director, commented, "Not only are our clients and our Team Members so incredibly supportive and passionate about doing more from an ESG perspective, but the entirety of Staci is fully behind doing more for our local and global communities.
I'm delighted to provide this Electric Vehicle to help our Team Members reduce CO2 from the roads, and make that positive impact on the environment we as individuals and a business are so keen to deliver."
Staci has donated an extra £5,000 to Blackburn Youth Zone, taking total donations in 2023 to over £30,000.
Staci, the UKs leading multichannel logistics expert, began supporting Blackburn Youth Zone in 2022, becoming a Gold patron of the charity dedicated to improving the lives and opportunities of young people in the local area.
The latest donation comes following a collaborative campaign from Staci team members and clients, donating products in aid of the charity to generate sales with 100% of money raised going directly to Blackburn Youth Zone.
This extra donation will cover the full cost of Blackburn Youth Zone operating for an entire day, on top of Staci's earlier £25,000 donation which has provided 14,881 hot meals for young people.
Ben Whitby, Operations Director for Staci UK said "I'm really proud of our team members and the way they passionately support causes close to their heart. At Staci we're not only powered by experts, but by good people too, and I know the difference they've made to the lives of children and young people is outstanding – a huge thank you to all".
In an interview with the July-September 2023 issue of Profession Logistique magazine in France, our CEO Thomas Mortier talks in detail about our expertise in multi-channel logistics.
It's an opportunity to recall our positioning and our points of differentiation, and to take stock of the tailor-made solutions we are developing for our BtoB, BtoC, DtoC and e-commerce customers.
Thanks to our presence in 8 countries and our 78 hubs, we can support any type of company wishing to outsource its logistics, guaranteeing total peace of mind and adapting to its growth.
Outsourcing, flow management, agility, digitisation, but also parity and, of course, sustainable commitments, are some of the many topics covered in the article, which can be found in full here : Press article STACI
#multichannellogistics #outsourcing #picking #logistics #staci
Launched more than two years ago, our digital transformation is best illustrated by the new version of our E-Cats tool.
E-cats is a customisable digital platform that everyone can use to create their own marketplace.
How does it work? Everyone can develop their own platform to turn it into a shop, a marketplace, a tracking solution or all of the above. It can be customised to your specific needs: by brand, by subsidiary, by product type, by colour… the choices are yours!
And because E-Cats is based on a shared user platform, you also automatically benefit from all its monthly updates.
Our new E-Cats is ultra-intuitive, responsive design, UX-optimised, highly secure – it's ISO 27001 certified – and scalable to grow with your business.
With it, you can manage your business completely autonomously:
✅ Product management
✅ Quantity and price management
✅ Management of your sales promotions
✅ User management
And, of course your logistics, with full order tracking, delivery monitoring and the full power of Staci 🚛
Need it quickly? E-Cats can be deployed in just a few weeks, adapted precisely to the level of support you require.
So, are you ready to begin? 😀
#digitaltransformation #optimisation #marketplace #tailormade #logistics
As one of the world's leading multichannel fulfilment experts with over 60 fulfilment centres in 8 countries, Staci has developed a deep understanding for multiple industries and their respective requirements – none more so than the beauty logistics and cosmetics market.
In this fast paced sector, Staci has developed an unrivalled expert position for managing both retailer and consumer logistics, peak season capability, ecommerce system integration, order personalisation and dangerous goods management – all whilst continuing to add new brands to this growing portfolio too.
This is best evidenced with Staci's support of Unilever's purpose-led premium beauty business, Unilever Prestige. With brands including Living Proof, REN Skincare, Kate Somerville and Murad, Staci UK has been responsible for Unilever Prestige's multichannel logistics since 2020, managing deliveries both to retailers and resellers, and ecommerce orders direct to consumers.
'Partnering with Staci UK for Unilever Prestige's B2B and B2C logistics has been a fantastic decision for our business, and we're really happy to be working and growing together to support our customers', Rachel Baxter, Head of Operations and Logistics for Unilever Prestige said of working with Staci.
'When selecting a new multichannel logistics partner, we needed a specialist that could not only keep up with the rapid growth of our brands, but also consistently deliver an excellent experience to help nurture the relationships we have with both retailers and consumers alike.'
'The relationship we have with Staci is strong and extremely valuable in achieving these goals. The culture of their business and the support we receive to deliver this vital service for our business is excellent – whilst their commitment to analyse and continually improve is really powerful. I'm always impressed too with their flexibility and desire to help us achieve more. Nothing is too much trouble and they continue to find ways to add value to Unilever Prestige's logistics'.
'With Unilever Prestige's acquisition of the Tatcha brand, Staci integrated these requirements quickly and seamlessly, and across our range of brands provide the breadth of personalisation services we need to deliver a unique, excellent customer experience every time.'
'Unilever Prestige is not just an ambitious, fast growing beauty business, but also purpose is vitally important. Our aim is to make sustainable living commonplace so it's important that our closest partners support us to achieve this goal – and I'm pleased to say that Staci is absolutely one of these partners'
Wayne Chapman, Staci UK Managing Director, said 'We are extremely proud to be Unilever Prestige's partner for multichannel logistics across B2B and B2C customers – their brands are amongst the most desired, and we find it a real privilege to be responsible for delivering these across the UK and beyond'
'Staci's multichannel fulfilment expertise is the perfect match for Unilever who require careful, customised logistics across multiple routes to market, all with the delivery of personalised customer experience and cosmetics best practice.'
Furthermore, the whole Unilever Prestige division is a pleasure to work with too – it's a great example of a partnership that I have no doubt will continue to flourish over the years ahead'.
Looking for a Beauty Logistics expert?
Talk to Staci. Complete your details below and a member of our team will call you back to discuss your challenges and requirements:
For more information on our beauty logistics expertise visit our Cosmetics Fulfilment page.
Staci, Europe's leading multichannel logistics expert, has donated £25,000 to Blackburn & Darwen Youth Zone, a charity dedicated to improving the lives and opportunities of young people in the local area.
Staci is an international multichannel logistics expert with over 70 fulfilment centres in 8 countries, delivering over 15 billion items each year across the cosmetics, FMCG, technology and retail sectors.
Having operated UK offices in Blackburn since 1993, Staci has also been named as one of the top 4% of companies globally for their CSR performance across areas such as environment, ethics and labour standards, which includes their commitment to charitable causes across the UK.
The Youth Zone charity in Lancashire exists to create a positive future for young people, promoting cohesion, skills & aspirations, and health & well-being. They support children and young people aged 5 to 19, and up to 25 through the Youth Hub, which specialises in upskilling young people.
Rt Hon Jack Straw, Chairman of Blackburn & Darwen Youth Zone, said:
'As Chairman of Blackburn & Darwen Youth Zone, we are very proud to welcome Staci to the network. The Youth Zone Patron network connects like-minded business leaders together to invest in the next generation. The Patron network has ensured that over the last ten years, the Youth Zone has supported over 18,000 young people, had 387,625 visits through their doors, raised just under £20 million and had a staggering 107,543 volunteering hours to support our mission. '
Wayne Chapman, UK Managing Director of Staci, said:
"The whole of Team Staci is extremely proud to support this incredible cause, as the work done by Blackburn & Darwen Youth Zone to improve the lives and opportunities of young people in the area is truly remarkable."
"We've experienced incredible growth over the last few years, culminating with our best year on record in 2022. The result of this means we can support worthy causes even more with donations and patronages such as this, and my sincere thanks go to every member of Team Staci for helping make this possible."
"Over 35 years Staci has held a strong reputation for ethics, CSR and doing the right thing for the right reasons – we know how much our clients value this, and we will continually improve this too."
Certification of the hosting of our E-commerce front office and our SAAS WMS platform 🙌
Following a successful and detailed audit across our Security, IT, Operations, Legal and Human Resources departments, QAS International has awarded the Staci group with 💠 ISO 27001 certification 💠, formalising the implementation of an Information Security Management System #SMSI.
🔒 This certification aims to prove our ability to protect information against all types of threats and therefore guarantees, in compliance with regulatory requirements, the security of information systems and data used in our activities.🔓
This powerful certification represents a new step taken in our approach to applying the most rigorous security procedures, both for our company and for our customers and partners.
#ISO27001 #cybersecurity #logistics #staci
STACI'S TEAMS WISH YOU ALL THE BEST FOR 2023!✨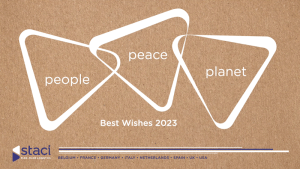 Staci, Europe's leading multichannel fulfilment expert, has announced the opening of its 7th UK Fulfilment Centre following continued business growth and significant new contract wins.
This new site, Staci 7, is a near 100,000 square feet eCommerce and multichannel Fulfilment Centre, handling B2C and B2B orders for major brands across multiple industries, including cosmetics, FMCG and technology.
With the opening of this new multichannel Fulfilment Centre, Staci grows to now 64 locations worldwide, including centres in France, US, Germany, Italy, Belgium, Netherlands, and Spain.
Signing a ten year lease on their latest site, Staci's new Staci 7 facility is located adjacent to their 250,000 square feet UK head office, Walker Park.
Wayne Chapman, UK Managing Director, said, 'We are delighted to announce the opening of another fulfilment centre in the UK for Staci, and it's testament to the whole of Team Staci how seamlessly and quickly this new site has slotted into our infrastructure.'
'Staci 7 opens on the back of continued, consistent business success both in the UK and globally, thanks to our ever growing reputation as one of the world's leading multichannel fulfilment experts.'
'It is such an honour to support the range of brand owners that we do, being trusted by them to provide the crucial outsourced logistics support their businesses need to grow and delight their customers.'
'Despite a challenging few years for the economy, we're extremely proud that Staci continues to buck the trend thanks to our diversified portfolio of logistics services, and the opening of our latest site alongside some outstanding new client wins strengthens our position for both today and tomorrow even further.'
Featuring both experienced logistics teams and automated equipment, over 30 Team Members have joined the team at this new site.
Need a Multichannel Fulfilment Expert?
Simply add your details below and a member of our team will get in touch to discuss how we can help you: